We are over the moon to announce that our chosen charity for 2016 is Parkside in Aldershot, who provide support services for children and adults with learning disabilities living in the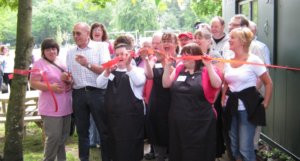 local area. £1 from every one of your entries will go to this amazing charity. That's a possible £1000! Race director, Steve Radcliffe, tells us more…
After throwing the event together last year in a little over 3 months, we didn't really have time to consider any charitable giving. This year, we've had more time to ponder over it and have been able to allocate up to £1000, a sizeable donation for a community based event. We chose Parkside because of the great work they do. They have a centre right next door to the Blackwater Valley Runners club house, and we quite often see members socialising and taking part in activities when we head out for our Wednesday night runs.
So the more people we get signed up for this year's event, the more money that goes to charity. Simple as that. With an extra beautiful route and chip timing added to the mix this year, what excuse could you possibly have not to?
Need more info about this charity?
If you would like more information about this charity, you can head along to their website at http://www.parksidealdershot.co.uk. Here there is lots of info about how Parkside support local people, including what services they provide.