Rushmoor Wellesley 10k Route Details
The Rushmoor Wellesley 10k race starts on the Polo fields in the same location as the Rushmoor parkrun, carrying out a 1km loop before heading towards the canal, to allow runners to spread out and alleviate any bottleneck as runners reach the canal.  
The route first uses the Basingstoke Canal Path towards Odiham  making it a very flat course, passing a low but beautiful old brick canal bridge under the Farnborough Road near the new area of Wellesley being built by our usual sponsors Grainger PLC you follow a Lane up through the Army Golf club.
You then make your way 
over an old Pontoon Bridge turn left and you enter the Wellesley Woodlands, Do take care in the woodland sections though, as path can be narrow at times and presents the occasional trip hazard.
This carries  on pass a hand carved wooden seat,  eventually all the way to the famous Farnborough airport Runway end, the Red arrows are regularly  seen taking off, this is where a water stop will be found, Straight back onto the canal and you are on the way back for a fast finish,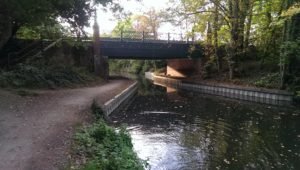 back though another part of the Wellesley Woodlands pathways again and all the way towards the finish point in the Army Rugby Stadium. 
There is only about 50ft elevation over the whole course.
For a map of the course, click on mapometer
---