Of course, we would encourage competitors to find a nice green way of making their way to our event, but if you need to bring a car, please consider sharing your journey with a few other people.
Napier Gardens Car Park, GU11 2JH (

*** NEW ***

)
For 2019 we tried to arrange for the public car park in Napier Gardens, Redvers Buller Road, North Camp, GU11 2JH  to be made available free to race competitors. Unfortunately we have been informed that this is NOT POSSIBLE for legal reasons. However, the charges are very reasonable (70p for 3 hours, 90p for 4 hours) so it's still worth considering if you're arriving from the Farnborough direction or via the A331. From here it's just a 1km walk (or warmup jog) down Queen's Avenue to the Race HQ and the start and finish. There's a free bag drop at the Rugby Stadium where you can leave things for immediately after the race. It may be much quicker to get away after the race from this car park than from the main race car park.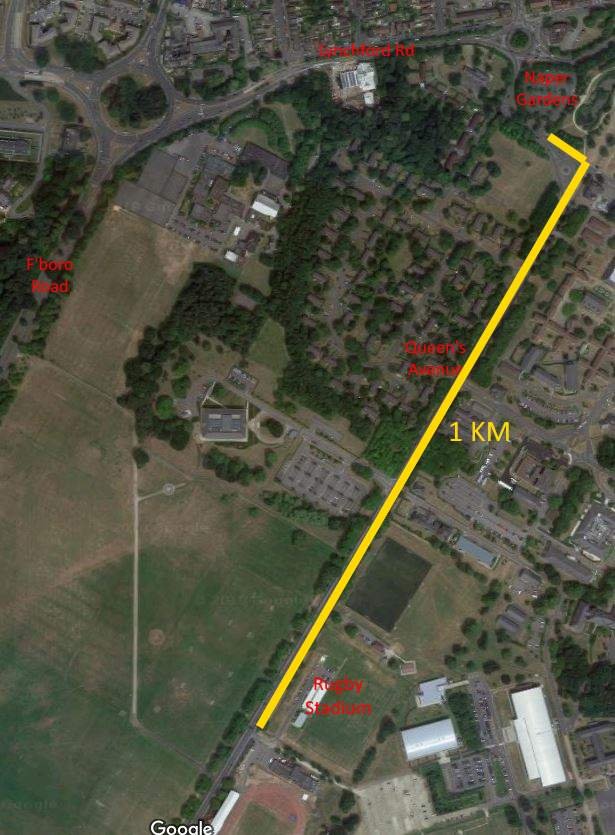 Main Car Park (at back of Rugby Stadium)
We have a free off-road car park with room for 300 cars available for your use, a short walk (or warm up) from Race HQ and the start and finish. It's the same car park used by the Rushmoor parkrun. For a map and directions, see below.
IMPORTANT: At the end of the event we will open an extra exit to Queen's Avenue. Those wishing to turn left to Aldershot should use the exit that you used to come in (via Prince's Avenue). Those wishing to turn right towards Farnborough should use the exit at the opposite end of the car park which leads directly onto the Farnborough Road.
Main Car Park Location (Google Maps)
Main Car Park Entrance Map
Main Car Park Exit Map
We politely request that all car drivers familiarise themselves with this map. When leaving the car park at the end of the race, you will only be able to turn one way onto Queen's Avenue (which will be different depending on which exit you use). Please adhere to all instructions from our marshals. They are all volunteers and are giving up their time so that you can get home as quickly as possible.