Hello and Thank you for entering the Rushmoor 10k, this will hopefully answer any questions you may have so you can enjoy your race, have a great run 🙂  
Start Location – Army Rugby Stadium, Queens Avenue, Aldershot, GU11 2TD.
Race Day Schedule
9:00am – Race registration and bag drop opens
10:00am – Race registration closes
10:10am – Bag drop closes
10:30am – 10k Race start
Pre-registration and number pickup
This will take place at Aldershot Cricket Club on the following dates:
Wednesday 20th October 2021 – 6:30pm to 9pm
Saturday 23rd October 2021 – 8:30am to 12pm (midday)
On-the-day number collection
This will be possible between 9:00am and 10:00am from Registration but please try and pick up your number beforehand at pre-registration. There are NO ENTRIES ON THE DAY.
Please Note
You can find your name in the list of competitors here.
DO NOT RUN UNDER someone else's NAME ! You are not insured – change over is easy. Just log in here and put the other persons Name, Sex, Club and DOB.  You can do this until a week before the race. Failure to do so could spoil the results for other people.
Numbers will be given out in advance at pre-registration and on the day during registration. You will not receive a race pack in the post.
Before setting off to the race, please make sure that you've read the Covid-19 Code of Conduct, the Race Rules, and if travelling by car that you understand the Parking arrangements.
Medals are awarded to all finishers at the end of the race, and water is available at the finish.
Travel by Car
We recommend that competitors coming from the Farnborough direction park in the public Napier Gardens car park in North Camp. There is a small charge for this (70p for 3 hours, 90p for 4 hours). It should be much quicker to leave after the race if parked here. From this car park it is only a 1km walk (or warmup jog) to the rugby stadium. See the car parking page for more information.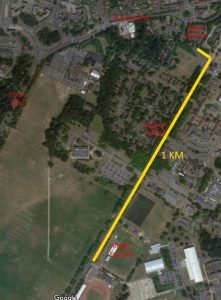 OR until it fills up you can use the car park at the back of the Rugby Stadium as in previous years. (The Rushmoor parkrun car park, 300 spaces). To reach this turn left into Princes' Avenue at the traffic lights on Queen's Avenue. Ignore the car park immediately on your right, and follow the road round to the left and to its end, turning left just before the barracks. The race car park is on your left after 300m (signposted 'car park 6'). Please do not park in any of the other car parks in the military area.
Important: Visit our car parking page for more info including how to leave the car park!
Travel by Public Transport
The race start and finish is approximately 2.5 miles from Aldershot Railway Station and 1.5 miles from North Camp Railway Station. There is no connecting bus service from North Camp Station to Queen's Avenue in Aldershot but the No. 1 route Stagecoach Goldline bus service runs from Aldershot Railway Station every 10 minutes. There is a stop in Queen's Avenue, a short walk from the start.
The No. 1 route bus service also connects Farnborough Main Railway Station.
Travel on Foot
The Basingstoke canal tow path runs from Woking to Queens Avenue and also from Fleet/ Basingstoke in the other direction. The race start and finish is about a 30 minute walk from Aldershot town centre along Hospital Hill and then Queens Avenue.
Prizes
Plaques to 1st male and female, to be collected at the finish line.
Free entry to next year's race to 1st senior and 1st Vets in categories 30-39 40-49 50-59 60+, male and female.